Junior guard Harris powers Buffalo in win over CMU
---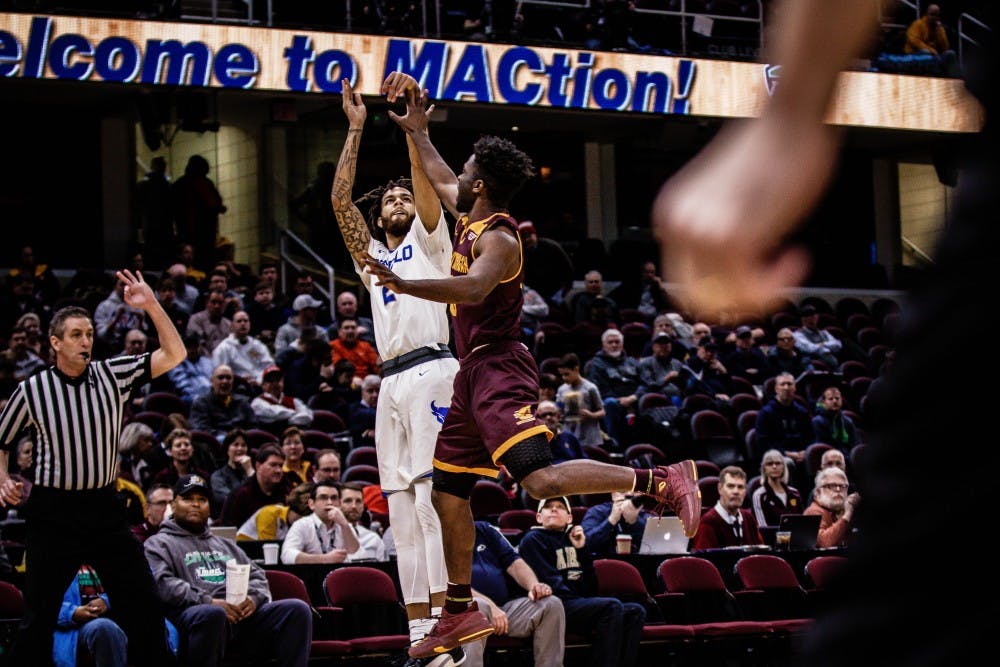 Holding 72-70 edge with 4:42 left in the game, Buffalo junior guard Jeremy Harris caught the ball in the corner on a pass from senior guard Wes Clark and buried a 3-pointer.
The shot sparked Buffalo's 89-74 victory over Central Michigan in the Mid-American Conference Tournament quarterfinals at Quicken Loans Arena.
"We called a punch play for Perk," Harris said. "They loaded on him all game, so I was wide open in the corner.
"I was just trying to win, play defense and get out in transition and run. I knew my teammates would find me if I was open."
Harris, a 6-foot-7 guard, finished the game with 27 points, 10 rebounds and three assists. He shot 9-of-16 from the field, 4-of-8 from 3-point range and 5-of-5 from the charity stripe.
"He's obviously a great athlete, he can run and make plays," said Buffalo head coach Nate Oats. "The second thing is they quit running hard if they never get the ball. So, we've got two point guards that always throw the ball ahead. Every time Wes gets it, he's going to hit it ahead if you're open."
During portions of the game, CMU sophomore guard Kevin McKay was called on to guard Harris. Using his 6-foot-5 frame, McKay gave his best effort to shut him down. Even when McKay wasn't guarding him, Harris still shined.
"He's a great player," McKay said. "Even when he was taking tough shots, he was finishing them. He can score under a lot of different ways so it's hard to contain him."
CMU head coach Keno Davis gave Harris credit for being able to score in multiple ways. In the 15-point Chippewa defeat, Harris converted from all over the floor.
"With Jeremy, he's right up there as well and obviously had an outstanding career night for him," Davis said. "But as Kevin McKay said, I think the tough thing about guarding a great player, a great scorer, is that they can score in a variety of ways.
"It isn't the guys that you just have to guard at the 3-point line or that you need help in the post, it's the guy that can score inside, score outside, can drive, can post, can get offensive rebounds."
Share:
---